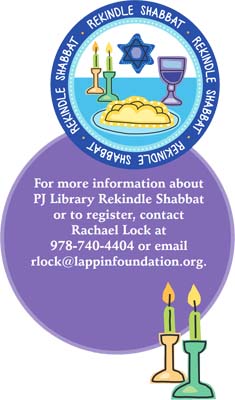 PJ Library Families get everything needed to enjoy Shabbat at home:
Free, delicious fully-cooked Shabbat meals on January 8, 2021, March 5, 2021 and May 14, 2021
Online educational video for parents about Shabbat home rituals
Free, fully-stocked Shabbat kit, including candles, candlesticks, tzedakah box, wine cup, challah coverand more
Register today to participate in PJ Library Rekindle Shabbat with your family. You can invite a buddy family to join you!
PJ Library Rekindle Shabbat is free and open to Jewish and interfaith families, with children teens and younger, who live in, or are affiliated with a Jewish organization, in any of the 30 cities and towns in the Foundation's service area. Others may pay to participate.
For more information about PJ Library Rekindle Shabbat or to register, contact Rachael Lock at 978-740-4404 or email rlock@lappinfoundation.org.