Holocaust Education and Commemoration
Educational Films about the Holocaust and Antisemitism
The Teddy Bear – The True Story of Michael Gruenbaum, Survivor of Terezin Concentration Camp
The Teddy Bear is a Holocaust education film project of Lappin Foundation. The film is narrated by survivor Michael Gruenbaum, who spent two-and-a-half years in Terezin as a child. The film is appropriate for middle school age children and older. The length is approximately 12 minutes. A teacher's guide is available.
Swastika - Symbol of Hate
The swastika has become a major symbol of the Holocaust. Swastika—Symbol of Hate is a short film explaining the origins of the swastika as a symbol of peace and goodwill and about how Hitler hijacked it to use as a symbol of the Nazi party. The film is geared toward students in grades 6 and above. The film can be especially powerful when a swastika shows up in a school or in a community.
Magda Bader, Holocaust Survivor, Testimonial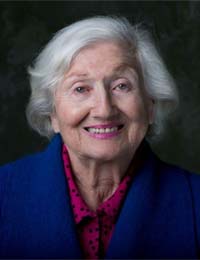 Magda Bader is a survivor of the Holocaust. She grew up in Munkacs, Czechoslovakia, in the 1930s. In the spring of 1944, when Magda was 14 years old, her family was ordered to vacate their home and they were re-located to a ghetto. Soon after, the ghetto was liquidated, and Magda and her family were piled into cramped cattle cars (trains) and sent to the "east"—destination Auschwitz death camp. After disembarking the train, Magda and her two older sisters were separated from their parents, another sister, and their sister's baby. That's the last time Magda and her sisters saw them. Magda's emotional testimonial about her lived experience bears witness to the Holocaust.
Dr. Hans Fisher, Escapee of the Holocaust, Testimonial
Dr. Hans Fisher, an escapee of the Holocaust, was born on March 4, 1928, in Breslau, Germany, which is now Wroclaw, Poland. He left Germany on May 13, 1939, with his mother and sister on the ill-fated ship the St. Louis, headed for Cuba to meet his father. Dr. Fisher's powerful testimony and vivid recollections of the day after Kristallnacht (the night of broken glass), his voyage on the St. Louis, and his new life in America bear witness to the Holocaust.
Holocaust Symposium for High School Students
"Every school should participate in the Holocaust program. Our students and staff were amazed by the content, presentation and real life examples provided. Every student needs to learn about, understand and remember this historical event with the goal of ensuring it never happens again."
Dr. Ryan Plosker
Executive Director and Founder
New England Academy
Beverly, MA
The Holocaust Symposium for High School Students is made possible with a grant from Cummings Foundation.
Holocaust Survivors Speakers Bureau
"When you listen as a witness, you become a witness."
Elie Wiesel, Nobel-prize winning writer and Holocaust survivor
The Butterfly Project
The Butterfly Project is a global education and arts program whose mission is to paint and display 1.5 million ceramic butterlfies to honor and remember the 1.5 million Jewish children killed in the Holocaust.
Antisemitism Defined
Lappin Foundation adopted the International Holocaust Remembrance Alliance's (IHRA) non-legally binding working definition of antisemitism: "Antisemitism is a certain perception of Jews, which may be expressed as hatred toward Jews. Rhetorical and physical manifestations of antisemitism are directed toward Jewish or non-Jewish individuals and/or their property, toward Jewish community institutions and religious facilities."
Read the full text of IHRA's definition here.